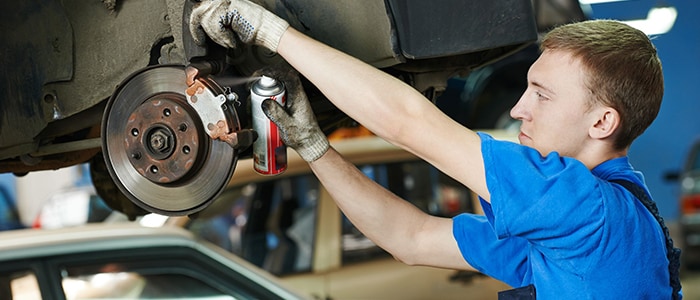 Functional brakes should be the number one priority for any car-owner. Stopping is the most important feature of a car in order to ensure safety of the driver, passengers, and everyone else on the road.
Read answers to common questions about brake maintenance from our factory-trained service staff at Jack Daniels Kia. If you think it's time to bring your car in for service, you can easily schedule your appointment online.
Expert Brake Maintenance in Fair Lawn, New Jersey
When do car brakes need to be changed?
Though there is no definite time frame for brake performance, a good guess is that most brake pads need replacement after about 50,000 miles. 
How are car brakes tested?
We test your vehicle to make sure both the brake system and brake pads are in optimal working condition. This means checking the wheels for brake dust, confirming the thickness of brake pads, and testing the steering wheel in combination with the brakes.
How should car brakes feel?
Like your car is stopping. If you notice vibrations or grinding of your brakes, soft or spongy brakes, or your car pulling to one side when you are braking, it's time for a maintenance appointment.
What causes car brakes to fail?
There are many issues that can contribute to brake failure over time. Some potential causes are oil leaks that interfere with brake friction, overheating of brake parts, and over-worn brake pads.
Where to fix my car brakes?
In Fair Lawn, New Jersey, at Jack Daniels Kia.
If you notice that your brakes seem a little off based on the questions above, don't hesitate to pay us a visit in Fair Lawn. We look forward to visits from customers in our hometown, as well as nearby Jersey City and New York City.