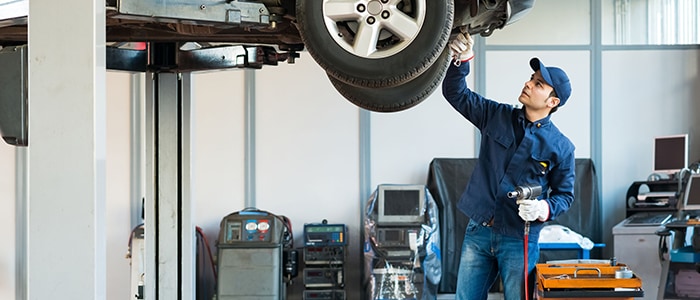 At Jack Daniels Kia, we want you to get the most out of your car: the most fun and most reliable experience behind the wheel. That means outfitting your vehicle with tires that are just right for your Optima, Sorento, Soul - or whatever Kia you drive.
Tire care is essential to optimize your car's longevity and performance capabilities. Jack Daniels has access to all tire brands and the best deals through Kia Tire Source. No matter your brand preference, we can easily take care of your vehicle and your tires, including repair, in-house.
Kia-Approved Tires in Fair Lawn, New Jersey
When do tires need to be replaced?
When the functionality of your tires is jeopardized by wear, it's time to get new tires. Typically, replacements are needed around every 5 years.
When should tires be rotated?
To keep things simple, you can have your tires checked and rotated when you bring your car in for an oil change service appointment. Most cars need a tire rotation every 5,000 to 8,000 miles.
Why is my maintenance tire warning light on?
It could be because of an abrupt change in weather, you exceeded the mileage setting for your car between tire rotations, or your tire pressure is too high or too low. If none of these seem to be the cause, bring your car into Jack Daniels Kia to let the pros take a look.
What wears out car tires?
If your tires are wearing too fast or unevenly, it may be due to underinflation, overinflation, or misaligned tires. Be sure to schedule regular tire rotation to avoid uneven wear.
Why is tire maintenance important?
First and foremost, to keep you and your passengers safe on the road. Maintaining tire pressure and tread can also improve your gas mileage and allow you to get more use out of your tires.
If you have questions about your tires or want to order from Kia Tire Source, give us a call at Jack Daniels Kia, or drop into our dealership in Fair Lawn, New Jersey, for help from our team.
We look forward to visits from all of our customers. We are conveniently located for access from Paramus, New Jersey, as well as New York City and Jersey City. Stop in today.